The 1.5 million square-foot facility in Lancaster, Texas, will enable faster delivery as the retailer prepares for the holiday season.
Walmart opened its third next generation fulfillment center in Lancaster, Texas, as it prepares for holiday demand, according to an Oct. 17 press release.
The 1.5 million-square-foot-facility near Dallas is one of five recently announced. The retailer said the facilities will enable it to fulfill more orders, more quickly by using an automated, high-density storage and retrieval system that condenses the retailer's 12-step fulfillment process down to five steps.
"These tech-powered jobs will drive the future of Walmart's continued promise of speedy shipping and delivery for customers in the south-central U.S. just in time for the holidays," Karisa Sprague, senior vice president of fulfillment network operations for Walmart U.S. said in the release.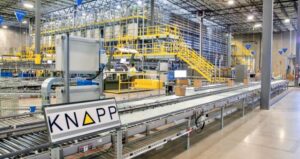 Walmart is continuing to leverage automation as demand for its fulfillment services increased more than 50% in Q2 compared to the previous quarter, according to an Aug. 17 earnings call.
With higher demand, the retailer has doubled-down on its use of technology to enable faster delivery and simplify its fulfillment.
In June 2022, Walmart announced plans for multiple next-generation fulfillment centers. The retailer has already opened two centers located in Joliet, Illinois, and McCordsville, Indiana, in addition to the Texas facility. Walmart plans to open two more in Stockton, California, and Greencastle, Pennsylvania.
The"next gen" facilities expand access to the retailer's next- or two-day shipping by combining the service with Walmart's fulfillment network. The joint process is expected to help Walmart reach 95% of the U.S. population. Walmart Fulfillment Services, Walmart's end-to-end third-party fulfillment service, will also leverage the space to fulfill Marketplace items.
CFO John David Rainey said the company was pleased with the performance metrics from its newly automated distribution and fulfillment facilities, noting that the "centers are achieving efficiencies of 30% higher units per hour than non-automated buildings."
Walmart also tapped Kieran Shanahan as COO to help lead the retailer through the changes prompted by its supply chain investments, the retailer announced in the Q2 earnings call.